The FlowMate A, Automatic Balancing Control Valve, like it's description suggests, boasts both Automatic Balancing & On/Off functionality. Taking the functionality of an Automatic Balancing valve (FlowMate KA/KB), to facilitate balanced system flow rates, the FlowMate A series also boasts an actuator to add On/Off control.
 
The FlowMate A maintains flow to a specified rate regardless of changes in differential pressure thus ensuring the application has balanced flow. This is achieved by the FlowMate Cartridge which counteracts any differential pressure fluctuations with its self acting mechanism.
On/ Off control is provided for via the FlowMate AA actuator which opens or closes dependent on temperature requirements. Two efficient functions in one unit.

Automatic Balancing
Manual balancing is laborious, time consuming and requires unnecessary use of resources and if not done frequently and correctly, can lead to imbalances in the system. This results in needless use of time, labour and an inefficient system. With Automatic balancing valves such as the FlowMate A, the system runs efficiently and without the needs that manual balancing requires. Once installed, Automatic balancing valves maintain the set flow rate automatically, thus saving on resources and ensuring efficiency.
Benefits
Precise Automatic balancing resulting in

Minimized maintenance and downtime – The FlowMate A is designed to be hassle free installation & operation.
Greatly reduced commissioning requirements – saving time and resources.
An efficient and & cost saving system- all ensure peace of mind for the end user.

The easily accessible cartridge along with it's easy flow rate setting procedure ensures quick and efficient system set up and tuning.
High grade materials give durability and a long operational lifetime.
With the elimination of manual balancing valves and branch piping, costs in labor and installation are dramatically reduced.
Installation space is kept to a bare minimum with reduced equipment requirements.
2 Independent Mechanisms
Working in tandem for On/Off Automatic Balancing Flow Control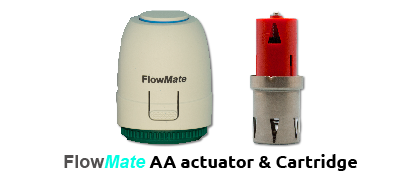 Working Principle
The FlowMate A maintains a set constant flow by means of it's variable sized apertures and spring loaded mechanism, all contained within a cylindrical housing. The spring loaded housing in the A series acts as a piston, regulating the apertures sizes, increasing or decreasing relative to fluid thrust within the system. Constant flow is maintained by the variable sizing of the apertures through which the fluid flows; the aperture size variance is governed by the precision spring which acts against the amount of the fluid thrust.
Independent On/Off control is achieved via the FlowMate AA actuator, opening and closing the flow outlet in response to thermostatic requirements.
Dual Control
Paired with the FlowMate AA actuator & FlowMate cartridge, the A series offers ON/OFF functionality & constant flow control.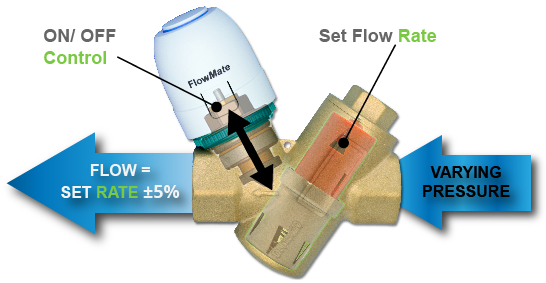 Convenience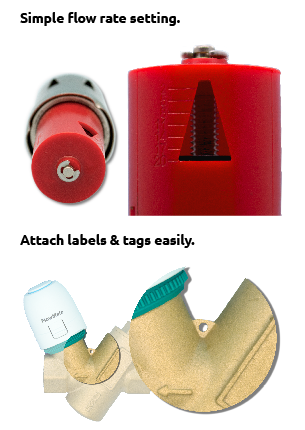 Features
DN15 to DN25 connection sizes.
Compact and robust design.
Optional integrated PT Ports .
Unique valve design gives a higher than industry average DN size to flow rate ratio.
Automatic balancing. The FlowMate A automatically maintains a precise flow rate for each circuit. Meaning  peace of mind for the end user.
On/Off Actuated temperature control.
Easily accessible cartridge along with it's easy flow rate setting procedure, the FlowMateCartridge ensures quick and efficient system set up and tuning.
The self-cleaning design of the FlowMate cartridge ensures that it's functionality is not affected by any impurities in the water.
Use
The FlowMate A, with it's flow balancing and On/ Off control can be used for many applications. Typical use would be fan coil units, chilled ceilings, AHU's or any heating or cooling system that requires flow limitation and balanced flow.