The FlowMate Mars, Dynamic Balancing Control Valve. Designed & engineered to save energy with optimum efficiency and control. The Mars is designed to serve as an automatic balancing valve and a modulating control valve, it provides automatic balancing at full or part load, all the time maintaining the set flow rate to a high degree of accuracy and independent of pressure differential.
 

The FlowMate Mars is a Pressure Independent Control Valve, it maintains a constant differential pressure, automatically adjusting internally to regulate any pressure fluctuations. External flow rate setting offers convenient and easy set up and adjustment of the required maximum flow. Actuated temperature control comes via the FlowMate QQ actuator which provides modulating temperature control. Combined, this means pressure independent flow balancing & modulating control. As the differential control component is independent and constantly regulates differential pressure, it gives the modulating control component 100% valve authority – no need to calculate valve authority or Kv. The QQ actuator also benefits from full stroke modulation as the external flow setting mechanism is independent and has no effect on the stroke.

Benefits
Precise Automatic balancing resulting in

Minimized maintenance and downtime – The FlowMate Mars is designed to be hassle free in installation & operation.
Greatly reduced commissioning requirements – saving time and resources.
An efficient and & cost saving system- all ensure peace of mind for the end user.

Circuits fitted with the FlowMate Mars benefit from operation at high ΔP & desired flow rate with minimal drops in pressure.
High grade materials give durability and a long operational lifetime.
With the elimination of manual balancing valves and branch piping, costs in labor and installation are dramatically reduced.
Installation space is kept to a bare minimum with reduced equipment requirements.
100% authority meaning no there is no more need to calculate valve authority and Kv.
High Functionality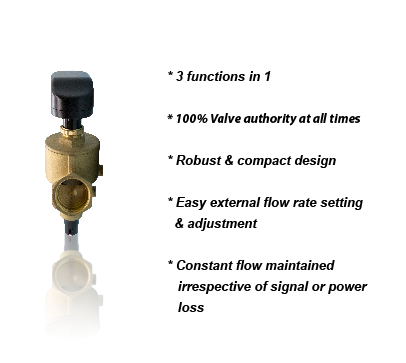 Working Principle
As flow enters (1), resulting pressure P1 is diverted to the upper chamber (2). The pressure acts upon the diaphragm (3) which reacts relative to the pressure. This reactive movement, counteracted by a precision spring, regulates the differential pressure in the lower chamber P2. Flow passing the lower chamber moves through variable sized apertures (4), preset to a required maximum flow rate and regulated by the actuator. As such, the independent diaphragmatic movement provides differential pressure regulation of the flow moving via the actuator controlled apertures.
Fig.1. P1 is the inlet pressure. P2 is the differential pressure within the lower chamber. P3 is the outlet pressure.
Effective

Convenience

Features
DN20 to DN40 connection sizes.
Compact and robust design.
Optional integrated PT Ports .
Unique valve design gives a higher than industry average DN size to flow rate ratio.
Automatic balancing. The FlowMate Mars automatically maintains a precise flow rate for each circuit. Meaning  peace of mind for the end user.
Easy and convenient external flow setting procedure. Set or change the desired flow rate without havingto remove the valve from the line.
Designed to ensure constant flow is maintained even with power or signal loss to the actuator.
Fault monitoring and warning. The QQ actuator warns of any faults via a flashing LED.
Use
The FlowMate Mars dynamic balancing control valve can be used in heating and cooling systems in applications with Fan Coil Units, Air Handling Units or other terminal unit applications.