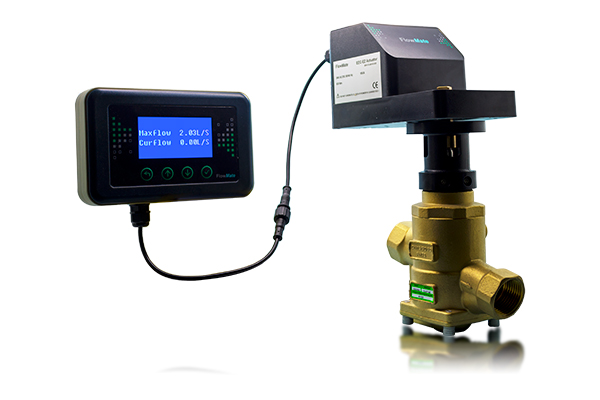 The FlowMate Eco is a complete Dynamic Balancing, Pressure Independent solution. Comprising of FlowMates highly efficient valves, a state of the art modular function actuator and separate LCD control & monitoring unit. The FlowMate Eco series of flow control solution is designed to automate, display and control every aspect and requirement within a cooling/ heating system.


The FlowMate Eco is a State of the Art Smart Control Valve, a multi-functioning system compromising of FlowMate's  high efficiency valve body, robust & versatile actuator and a modular application control/display unit. The Eco boasts modular functions, meaning that they have bespoke functions that are specific for cooling and heating requirements. Functionality can be specified for applications such as Plate Heat Exchangers, Air Handling Units Chillers or Zone Control.
As the differential control component is independent and constantly regulates differential pressure, it gives the modulating control component 100% valve authority – no need to calculate valve authority or Kv. The EE actuator also benefits from full stroke modulation as the external flow setting mechanism is independent and has no effect on the stroke.

Smart Control Valve
Boasting never seen before functionality in one system, the FlowMate Eco is a total solution in one smart package. With it's integral temperature & pressure sensor technology, it's state of the art microprocessor as well as FlowMates's highly efficient valve and actuator technology all working in unison, The FlowMate Eco offers unparalleled efficiency & control.
With precise data from the temperature & pressure sensors, the EE Actuator computes,monitors &  regulates ΔP & ΔT. The costly installation of numerous sensors, cabling, valves, piping and monitoring devices  can be now be all replaced with FlowMate's Smart Valve, The Eco. Adding another level of efficiency, the EE Actuator also boasts Energy Metering; this function allows energy consumption to be calculated, monitored and logged; a truly resource saving advantage. Whether using the Control & Monitoring Unit or connected to a BMS, this allows the FlowMate Eco unrivaled  control.
Monitor & Control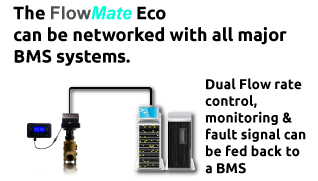 Control & Monitoring via BMS
Taking control and monitoring further, the FlowMate EE actuator also allows networking with a Building Management System (BMS). Flow rate monitoring & switching as well as a fault alarm signal can be fed to a BMS. Once the FlowMate Eco is set up, the flow rate can be monitored and switched from wherever the BMS is stationed. In the unlikeyly event of a fault, a fault signal will inform the BMS of an issue.
Benefits
A new generation of flow control resulting in high levels of energy efficiency.
Precise Automatic balancing resulting in

Minimized maintenance and downtime – The FlowMate Eco is designed to be hassle free installation & operation.
Greatly reduced commissioning requirements – saving time and resources.
An efficient and & cost saving system- all ensure peace of mind for the end user.

Set up, Control and Use comfortably using the remote LCD display and control unit.
With the elimination of manual balancing valves and branch piping, costs in labor and installation are dramatically reduced.
High grade materials give durability and a long operational lifetime.
100% authority meaning no there is no more need to calculate valve authority and Kv.
Installation space is kept to a minimum with reduced equipment requirements.
Option to connect to a BMS.
Circuits fitted with the FlowMate Moon benefit from operation at high ΔP & desired flow rate with minimal drops in pressure.
When fitted with the FlowMate Eco, the whole circuit benefits, seeing maximum efficiency and minimal burden through every component.
Peace of mind with alarms for faults & temperature and failsafe.
Features
DN20 to DN150 connection sizes.

Unique valve design gives a higher than industry average DN size to flow rate ratio.

Automatic balancing. The FlowMate Ec0 automatically maintains a precise flow rate for each circuit.

Easy setting and control via the remote display and control unit.

Password secured settings .
Back lit display – On/Off or Automatic.
Four button intuitive control.
Convenient storage, the display & control unit has a fastening bracket for easy placement.

View & log temperature, flow and system data. (selected models).

Flow rate accuracy of ±5% within varying system differential pressure ranges.

Network connectivity for use in conjunction with a BMS.