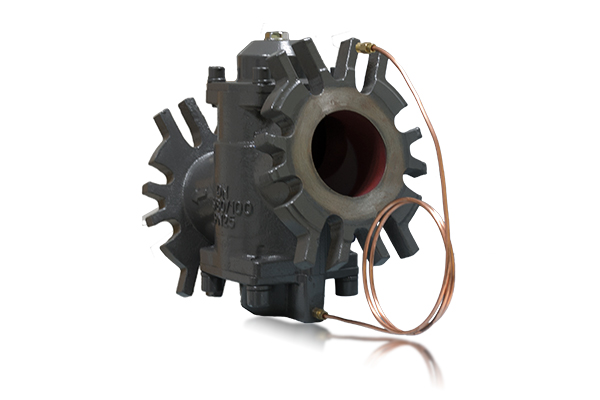 The FlowMate Oyster, Differential Pressure Control Valve, is designed to control differential pressure in heating and cooling circuits. It maintains a set constant pressure irrespective of fluctuations within the system, resulting in improved pressure stability and efficiency.

Used in heating or air-conditioning systems, the FlowMate Oyster automatically regulates differential pressure, maximizing efficiency of the overall system.
In air-conditioning, pressure fluctuations caused by varying system loads are regulated by the FlowMate Oyster. This results in a higher level of energy efficiency as the system flow and balance is improved. In heating systems, the regulated differential pressure results in improved flow control resulting in improved temperature control. An additional benefit of this is that any uncomfortable noise resulting from increases in differential pressure are eradicated.

Benefits
A quieter system – noise caused by high differential pressure is eliminated.
With differential pressure regulated, there is improved overall system efficiency -* Fewer flow fluctuations* Improved system balance
High grade materials give durability and a long operational lifetime.
Working Principle
The FlowMate Oyster, Differential Pressure Control Valve reacts to differential pressure by means of feedback. An attached capillary tube is connected to the downstream of the connected circuit. Pressure coming into valve via the capillary tube acts upon the diaphragm and spring within the valve body. The reactive movement of the of spring and diaphragm, which is proportional to differential pressure, alters the size of the outlet aperture. As circuit pressure increases, the aperture sizes decreases, to limit and control the system pressure.
Features
DN20 to DN150 connection sizes.
Compact and robust design.
Optional integrated PT Ports .
Capillary tube with male connection to fit a wide range of valves
Forged Brass (DN20-DN50) or Ductile Iron (DN65-DN150)
Preset pressure control range – once installed, the FlowMate Oyster will regulate differential pressure to within the desired range.
Use
The FlowMate Oyster can be used wherever there is a requirement for constant differential pressure. This could be heating or air-conditioning applications; to regulate the differential pressure across a single distribution coil or in parallel coupled group of coils.