The FlowMate Moon, Dynamic Balancing Control Valve. Designed & engineered to save energy with optimum efficiency and control. The Moon is designed to serve as an automatic balancing valve, differential pressure control valve and a modulating control valve, it provides automatic balancing at full or part load, all the time maintaining the set flow rate to a high degree of accuracy and independent of pressure differential. Coupled with FlowMate BB actuator, the FlowMate Moon offers a new level of control and monitoring.

The FlowMate Moon is a Pressure Independent Control Valve, it maintains a constant differential pressure, automatically adjusting internally to regulate any pressure fluctuations. Flow rate setting & Actuated temperature control comes via the FlowMate BB actuator, flow rate is easily set up and configured with a few button presses. As the differential control component is independent and constantly regulates differential pressure, it gives the modulating control component 100% valve authority – no need to calculate valve authority or Kv. The BB actuator also benefits from full stroke modulation as the external flow setting mechanism is independent and has no effect on the stroke.
Intelligence
The FlowMate BB actuator brings a new level of control and monitoring. A simple four button keypad allows complete control over the actuators settings and configuration. Flow settings, control signals & feedback are all accessed via the keypad., there is no need to handle dip switches or rewire any cables. Systems that require maximum flow rate to be adjusted frequently can benefit from the FlowMate BB's dual maximum flow rate setting. For seasonal or off-peak/ on-peak related settings, this function allows quick switching of the desired flow rate.
At Your Fingertips
Benefits
Precise Automatic balancing resulting in

Minimized maintenance and downtime – The FlowMate Moon is designed to be hassle free in installation & operation.
Greatly reduced commissioning requirements – saving time and resources.
An efficient and & cost saving system- all ensure peace of mind for the end user.

Circuits fitted with the FlowMate Moon benefit from operation at high ΔP & desired flow rate with minimal drops in pressure.
High grade materials give durability and a long operational lifetime.
With the elimination of manual balancing valves and branch piping, costs in labor and installation are dramatically reduced.
100% authority meaning no there is no more need to calculate valve authority and Kv.
Ease of use and control with FlowMate BB actuator.
When connected to a BMS, monitoring and control can be done from a remote area.
Installation space is kept to a bare minimum with reduced equipment requirements.
Ease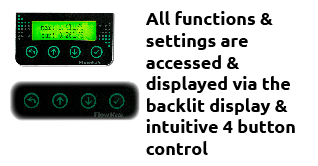 Set up the actuator with ease and be up and running in minutes. There is no need to configure dip switches or wiring. Upon start up, the FlowMate BB  actuator runs a diagnostic and guide the user through set up and configuration.
Control & Monitoring via BMS
Taking control and monitoring further, the FlowMate BB actuator also allows networking with a Building Management System (BMS). Flow rate monitoring & switching as well as a fault alarm signal can be fed to a BMS. Once the FlowMate Moon is set up, the flow rate can be monitored and switched from wherever the BMS is stationed. In the unlikeyly event of a fault, a fault signal will inform the BMS of an issue.
Working Principle
As flow enters (1), resulting pressure P1 is diverted to the lower chamber (2). The pressure acts upon the diaphragm (3) which reacts relative to the pressure. This reactive movement, counteracted by a precision spring, regulates the differential pressure in the upper chamber P2. Flow passing the upper chamber moves through variable sized apertures (4), preset to a required maximum flow rate and regulated by the actuator. As such, the independent diaphragmatic movement provides differential pressure regulation of the flowmoving via the actuator controlled apertures.
Fig.1. P1 is the inlet pressure. P2 is the differential pressure within the lower chamber. P3 is the outlet pressure.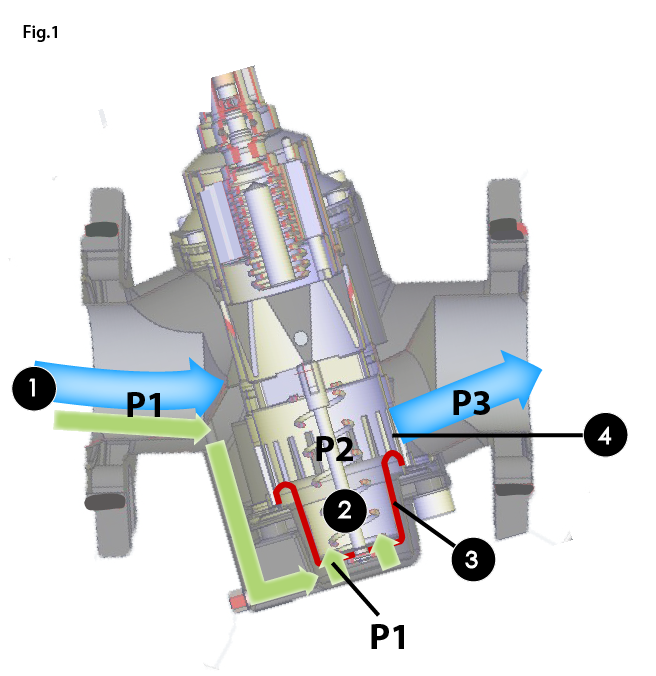 Peace of Mind
 
Features
DN20 to DN150 connection sizes.
Optional integrated PT Ports .
Unique valve design gives a higher than industry average DN size to flow rate ratio.
Automatic balancing. The FlowMate Moon automatically maintains a precise flow rate for each circuit. Meaning peace of mind & user comfort.
100% authority meaning no there is no more need to calculate valve authority and Kv.
Advanced control & monitoring functionality via the FlowMate actuator

Simple 4 button control & backlit LCD display

Easy and convenient flow setting procedure.
Designed to ensure constant flow is maintained even with power or signal loss to the actuator.
Fault monitoring and warning. The BB actuator warns of any faults via a flashing LED.
BMS networking functionality
Use
The FlowMate Moon dynamic balancing control valve can be used in heating and cooling systems in applications with Fan Coil Units, Air Handling Units or other terminal unit applications.